CONVERS FLEX 173
Rising to the Occasion
CONVERS is a true marvel of functionality, engineering & design. All that is visible in the retracted state is the slender brushed steel cover.
Un-obstructed.
Designed to encourage interaction within the meeting space it can then disappear as silently & quickly as it appeared to allow the parties' interaction & discourse to continue un-obstructed.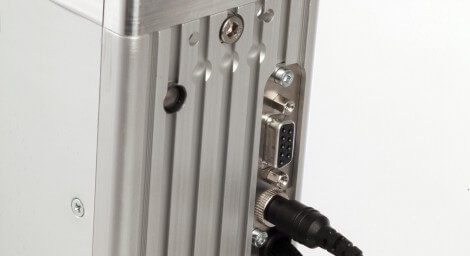 Easy Installation
Thanks to its compact design, the HD screen combined with its elegant exterior, the CONVERS FLEX 173 is particularly suitable for Trade and banks, showrooms, Executive office, authorities & parliaments.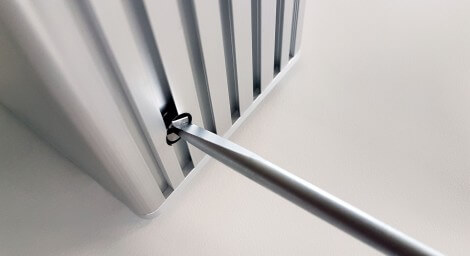 Smart Features
With the unique "Direct-Axle-Access" you are able to raise and lower the monitor manually when unplugged. Very useful for installation and maintenance purposes!
SPECIFICATIONS
Function
Motorized Retractable 17.3″ Monitor. One-Touch to open / close the monitor; electronic Anti Clamp Protection "Direct-Axle-Access" to raise and lower the monitor manually when unplugged (for installation and maintenance purposes)
Motor & Mechanics
12v Step Motor with simultaneous drive for multiple movements.
Separate Step Motor for tilting the monitor
Maintenance Free
Virtually Silent – 40 dB
Material Frame – Aluminium silver anodized
Trim – Black Plexiglass decorative inlay
Chassis & Cartouche – Brushed high-grade steel
Display -3 mm Antireflective coated protective glass
Dimensions – 530 x 100 x 586 mm
Weight – 15kg
Elevated Height – 322 at 105°
Monitor
Full HD 17.3" LED Backlit TFT
HDCP Compatible
Active Matrix
Widescreen Format
Brightness 400 cd/m2
Contrast Ratio 600:1
Resolution 1920 x 1080 – Full HD (16:9)
Pixel size 0.1989 x 0.1989 mm
Viewing Angle Horizontal 160°/ Vertical – 140°
Viewing Area 381,888(H) x 214,812(V)
LED Lifespan Up to 50,000 hrs
Video Interface HDMI (HDCP compliant)
Firmware Update – external via signal cable
Remote Control TCP/IP via on board Ethernet Port
9 Pin Connector for Updates & Basic Control
Power Consumption 15W
4 Pin Power Connector
Scope Of Supply
External Power Supply
Power Cord – 1.5m
Certifications: CE; FCC
Warranty
5 Years Mechanical / 2 Years Electronical
Extendable at inception with surcharge
E&OE.